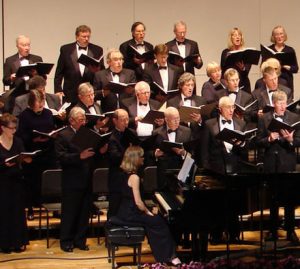 The Huntington Choral Society is a professional chorus of amateur singers. That may sound paradoxical so allow us to explain. HCS singers are all amateurs in the truest sense of the word: we sing for the love of singing. HCS singers are not compensated for their performances, and yet, we achieve the highest standard of professional musicianship. We believe that HCS concerts are the equal of any professional choral experience. We invite you to come listen and see if you agree.
History
Huntington Choral Society has been thrilling Long Island audiences for over 50 years! HCS was founded in 1962, and has performed continuously ever since. Read more…
Leadership
Huntington Choral Society performs under the able direction of our music director, Steven Finch, accompanied at rehearsals and concerts by our accomplished accompanist, Christine Doré. And none of it would be possible without the dedication of our Board of Directors.